Key to inventory overview
Not available
Limited availability
Article is in stock
CHAPERON Antriebssatz mit E-Getriebemotor
Heckrad-Dampfer*Rarität aus den 70-iger Jahren
Ausbausatz zum Einbau eines V-Motors in Modell TAIFUN
You save 31% to RRP!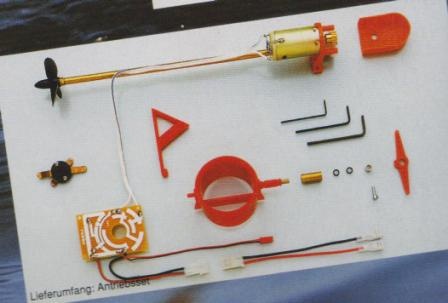 !ANTRIEBSSET MARK mit Kortdüse
Festmacherboot 1:25
You save 21% to RRP!
!ANTRIEBSET SPIDER
E-Motor Power 700/13T*Schiffswelle etc.etc

Navy-Direkt
Elektro-Schiffsantrieb*Rarität 80-iger Jahre
!Antriebssatz COLT
für 560mm langen Hydrogleiter Original 80-iger Jahre
You save 12% to RRP!
Querstrahlruder 14/16 x 154 mm
kann wahlweise stehend oder liegend eingebaut werden
!ANTRIEBSSET PS385R M
Schiffsantrieb vor/ rückwärts stufenlos regeln
You save 44% to RRP!